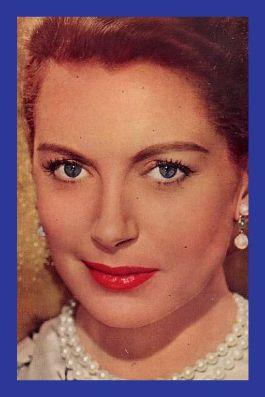 PHOTOPLAY Magazine - March, 1958

Rita Moreno
"I Like to be in America . . ."

What do THE KING AND I, WEST SIDE STORY, THE RITZ, THE MUPPET SHOW, THE ROCKFORD FILES, SESAME STREET and the prison drama, OZ have in common? Rita Moreno - the first woman to win an Oscar, an Emmy, a Grammy, and a Tony! This amazing Puerto Rican native transcended the discriminatory practices of Hollywood and set a precedent for Latino actors to be recognized by talent rather than ethnicity. A member of the Board of Directors of Third World Cinema, Moreno is an active supporter of minorities in the film industry. After Rita Moreno dazzles you with head-spinning tales of more than five decades of Hollywood triuph, you will soon realize one evening is just not enough!

________________________________________
TIME, August 11th, 1952

At Fort Lee, Va., where she is making a movie on life in the WAC, cinemactress Rosalind Russell misjudged her timing in boarding a fast-moving truck and ended up in the infirmary with 17 stitches in her right leg. She said: "If the accident leaves any scars, I can at least say I got them in the Army."
___________________________________
ENTERTAINMENT Entertainment News TOP STORIES
From HATTIES BACK PORCH
Here's the scoop ...
Di's tryst with actor
(N.Y.POST-Tuesday, March 16th, 2004)
Princess Diana had an "inimate relationship" with veteran British actor Terence Stamp, according to an explosive new book.
Stamp, whose films include "SUPERMAN 2" and "STAR WARS: THE PHANTOM MENACE," dated Di in the 1980s as her marriage to Prince Charles fell apart, says royal author Andrew Morton. Morton's new book, "Diana in Search of Love," will also reveal two more of her secret lovers when it comes out in the summer.
One is said to be a married film star, the other a "captain of industry who is a household name," Britain's Daily Mail reports. Neither has been named.
Diana is said to have first met Stamp at the 1987 London premiere of Michael Douglas' flick "WALL STREET," in which Stamp had a role. In a recent interview, quoted by the Mail, Stamp, now 64, recalled that first, flirtatious encounter: "She started to do all that official stuff and I just said, 'Oh, stop that' and said I'd seen her dancing . . . and told her how good she was, and she truly blushed."
The actor, whose past lovers include Joan Collins and Julie Christie, also tells how he invited the princess for an intimate meal at his luxury London apartment, where he cooked her a brown rice and mushroom risotto. Stamp is also said to have helped the princess with her public speaking, while she reportedly wrote him a string of admiring letters.
It Had to Be Kenneth
Kenneth Battelle gave Jacqueline Kennedy her tousled bouffant, readied Marilyn Monroe for that famous J.F.K. birthday serenade, and created the chic-est heads at Truman Capote's Black and White Ball. After a half-century, New York's master hairdresser is snipping, shaping, and soothing a new generation of best-tressed women.
In the witching hours of May 16, 1990, a frayed electrical wire - embedded inside a second-story wall of the granite town house at 19 East 54th Street - sizzled and threw off sparks. By 4:51 A.M., when the first alarm rang, this miniature torch had ignited the third floor, and by 5:58, after two more alarms had sounded, 125 firemen from 27 companies were battling a conflagration that was incinerating the entire five-story 1897 structure. Nobody was trapped inside, however, as the palazzo-like building had not been used as a private residence since its original inhabitant, a Vanderbilt, had moved out in 1917. Since the spring of 1963, it had been occupied by Kenneth, Manhattan's poshest hair salon - and had served as home away from home for its proprietor, the master hairdresser Kenneth Battelle, and his devoted staff of 100, as well as for his clientele of grandes dames and celebrities, including, over the years, Gloria Vanderbilt, Jacqueline Kennedy, Brooke Astor, Lauren Bacall, Katharine Graham, Pamela Harriman, Bunny Mellon, Diane Vreeland, Jayne Wrightsman, Drue Heinz, Babe Paley, Rosalind Russell, Hedda Hopper, Lucille Ball, Katharine Hepburn, Judy Garland, and Marilyn Monroe.
That fateful morning " it was raining in a way I had never seen before, " Kenneth says today. Employees showing up for work, clients arriving for standing appointments, and longtime customers - alerted by radio and phone - braved the downpour to witness the inferno with Kenneth in woeful disbelief. News of the calamity swept through New York's rival salons, where rumors sprang up that the fire had been the handiwork of an arsonist. Some competitors even went as far as to send representatives down to 54th Street to poach Kenneth's dispossessed staff. "Nobody offered me a job," he says. "I do, however, recall a girl from a daily newspaper asking, ' Kenneth, how do you feel right now?' And I replied, 'How the etc. do you think I feel? Go away!' I mean, how does anyone expect you to 'feel' whole you're watching your whole life go up in smoke?"
In 1954 the newlywed Jacqueline Kennedy was staying in Manhattan at the house of her sister-in-law Jean Kennedy Smith while her husband, the junior senator from Massachusetts, underwent tests on his back at the Cornell University Medical Center. She dropped by Helena Rubinstein to see Lawrence, creator of her wedding coif, only to find he was home sick with a cold. The reception desk paged Kenneth and asked him to fill in for his indisposed colleague.
" At the time Mrs. Kennedy - whose name meant nothing to me - had what was known as the Italian Cut, " Kenneth recalls. " It was too short, layered, and curly for her tall proportions and big bones. I planned to soften the line and the shape, and I suggested she do this by growing her hair longer. I wanted to stretch it out by setting it on big rollers - the only problem is they did not exist then. So I had some specially made up in Lucite. In those days hair was permed and permed until it wasn't hair anymore. It was tight frizz, intended to last and last. It had no movement and no shine; it didn't reflect light.
Kenneth had a revolutionary idea, which informed his makeover of Jacqueline Kennedy and attracted a growing following of grateful ladies during his six-year tenure at Rubinstein.
In 1957, Gillis McGil ran into Kay Kendall, the movie star, on Fifth Avenue. " Kay had just wrapped LES GIRLS, and her hair was dyed that ghastly Technicolor red, " says McGil. " I asked her where she was going, and she said, ' To Elizabeth Arden. I've got to do something about my hair. I look like Danny Kaye in drag! ' " McGil steered her to Kenneth in stead. " She was one of the most striking-looking women I've ever seen, " Kenneth says. " A tall, gorgeous clown. " Trying to balance the proportions of her small head with her rangy physique, he " cut her long hair to about four or five inches, and tinted it back to her own brown. Then I added lots of little blond streaks, set it on small rollers, and brushed it all up with tendrils in front of each ear. " The coiffure, debuted in a VOGUE portrait of the actress by Irving Penn, became such an international sensation, he says, that on some days " there was a line of women waiting outside DACHE to get the Kay Kendall hairdo. "
The following year Kenneth received a cry for help